Activity 1 is divided into the following 3 main tasks in which the European ports are analysed in depth according to different criteria. The aim is to find out in which European ports the environment is more favourable for launching initiatives linked to circular economy:
Mapping of ports – the objective of this task is to study the status of the main EU ports in terms of circular economy. A total of 480 main ports of European Union countries have been selected which include:
Core and Comprehensive ports as part of the TEN-T Network;
Main fishing ports previously selected taking into account the number of fishing vessels registered in those ports (Fleet Register of the European Commission);
Other ports of Relevance with an annual Gross Weight above 1 million tonnes or with a traffic above 1 million passengers per year, following Eurostat Statistics (2017)
A total of 45 variables have been selected and characterised for each port and grouped into 7 subject areas:
Overall characteristics of the port variables
Cargo and industrial sector variables
Port statistics variables providing information on the size of port areas
Port management variables regarding Governance, Ownership, etc.
Environmental management systems
CE Economy Strategies
Additional information
Finally, useful information has been extracted leading to three main results:
Diagrams of main variables for addressing an overview of the data
Georeferenced maps combining the information collected
Classification of ports according to different indexes regarding their suitability to implement CE strategies.
Overall results are shown below: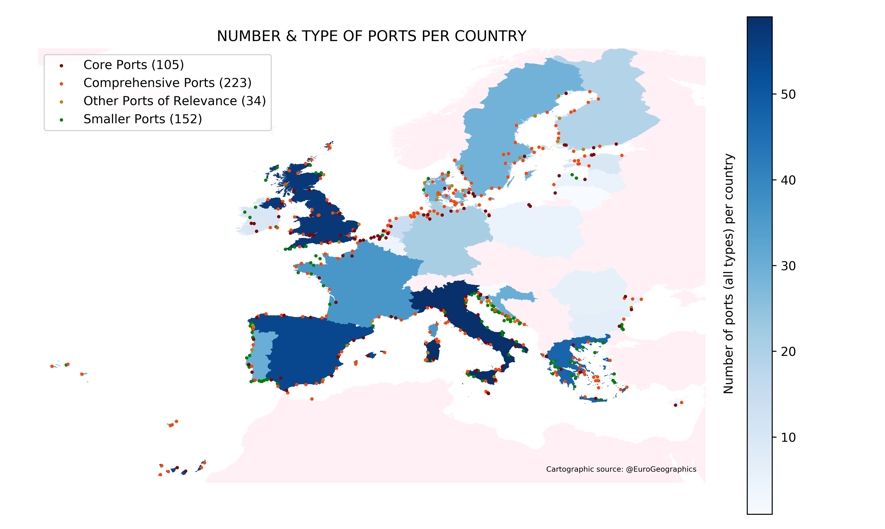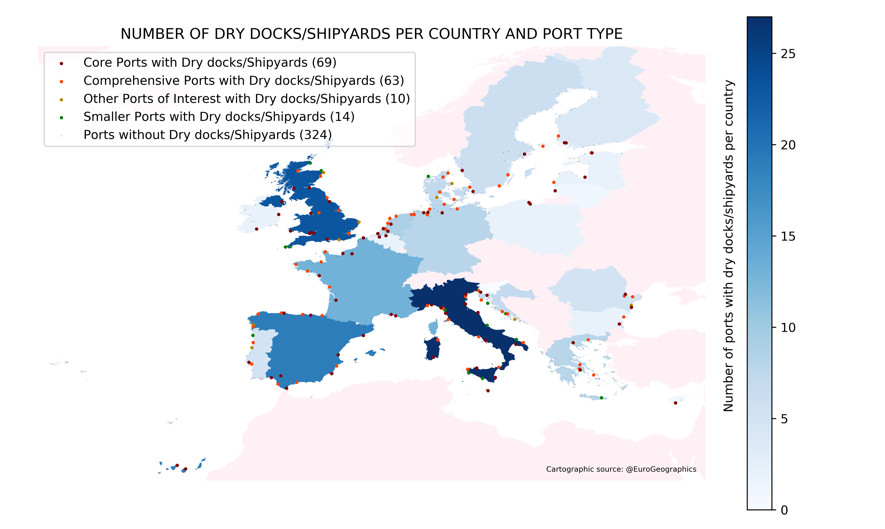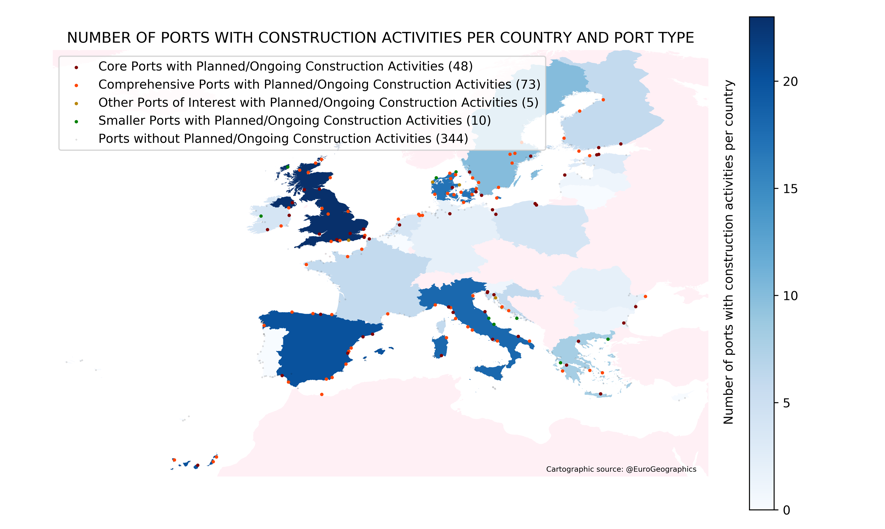 Mapping of CE activities in ports/case studies – the aim of this task is to identify circular economy activities and or initiatives implemented in or planned at EU ports.
In addition, several best practices implemented outside Europe are also being identified (China, Australia and USA). The main structure followed in the mapping of ports has been used to collect the information of overall circular economy activities taking place in EU ports.
The circular economy activities described only refer to activities actually taking place in the ports themselves. It may be the beginning of the activity, the development or, alternatively, its outcome.
The presence of circular economy activities have been identified following the below activities:
Recycling of waste streams
Repair
Maintenance and Overhaul
Decommissioning
Refurbishment
Dismantling/Component harvesting
Re-use /Second Hand
Rental Services
Asset Sharing
Industrial Symbiosis
Other
The following information has been compiled to provide the most reliable and updated information of each circular economy activity identified in ports:  material or material flows addressed, industrial sector involved, related key stakeholders, life stage, planned duration, new products or services generated and potential user demand.
This information will be available in this website, in section "Circular Economy Tools" for each port (Circular Economy Activity Datasheet) and may be subject to variations, updates and changes through the website.
Highest emitting activities identification in ports environment – Taking into consideration the findings from the studies in the previous tasks, specific case studies will be selected in order to analyse those port activities that generate large volumes of "waste" materials, and to characterise in detail the flows generated, paying special attention to plastics, cements, metals and biomaterials.
Waste material flows need to be mapped both quantitative and qualitatively just as the relevant stakeholders also need to be identified. The historical waste material flow and the future estimation in this area are important aspects for the case study. The ports selected for the case studies are based on their experience and knowledge related to the specific waste material flows in the relevant port. Each case study will be conducted in the following four phases:
Phase 1 – Desktop Study – mapping of waste material flows, reports, database extractions and relative stakeholders
Phase 2 – Fieldwork – This phase includes interviews, consultations and meetings with the relevant actors from the three stages whom can strengthen the qualitative mapping aspects of waste material flows and stakeholder overviews.
Phase 3 – Analysis and assessment – Synthesizing:

Waste material flow – including historical and future estimations, purity of the waste flow and how it adds to circular economy
Stakeholders – identifying the drivers of the three stages, their role and barrier analyses in order to eradicate them.

Phase 4 – Reporting – "guide of success stories"
The case studies that will be analysed are related to:
Cements and construction materials (debris, etc.)
Decommissioned ships
Plastics in aquaculture
Recycling different plastics in the port
Treatment of biomaterials generated at ports.